Exceptional orthopedic care in the Wabash Valley
When you need expert orthopedic or spine care close to home, count on Terre Haute Regional Hospital. We offer the latest techniques and technology to help relieve your pain and restore your active life as quickly as possible.
Health risk assessments
Find out how healthy you are by taking our FREE online health risk assessments:
From nonsurgical physical therapy to total joint replacement surgery recognized for excellence, you get expert care not available in area hospitals, all in one place. Our comprehensive orthopedic services include:
Orthopedic conditions we treat
Orthopedic and spine conditions from injury or disease cause a variety of symptoms, most commonly pain and limited motion. Our teams use advanced testing to diagnose your condition and create a customized plan to get you back to the things that matter most, pain-free.
Terre Haute Regional Hospital treats a wide range of orthopedic conditions including:
Arthritis pain
Bone spurs
Broken bones
Bursitis
Degenerative disc disease
Gout
Herniated disc
Impingement (pinched nerve)
Joint pain from injury or osteoarthritis
Joint dislocation
Muscle strains or sprains
Overuse or repetitive stress injury
Plantar fasciitis (heel pain)
Sciatic pain
Tendon and cartilage injury
Tennis elbow
Trauma injury
Trigger finger
Orthopedic treatments you can trust
The orthopedic care team at Terre Haute Regional Hospital helps you regain movement and reduce pain through nonsurgical methods when possible. If you need surgery, our orthopedic surgeons offer the most advanced techniques, including minimally invasive options that speed up recovery and minimize time in the hospital.
Our surgical and nonsurgical treatments include:
ACL, LCL, PCL ligament repair
Arthroscopic surgery
Casting and splinting
Cartilage and meniscus repair
Occupational therapy
Partial knee replacement
Rotator cuff repair
Sports medicine programs
Advanced orthopedic and spine care in Terre Haute
Terre Haute Regional Hospital provides personalized, skilled orthopedic care from a team dedicated to your health and quality of life. Patients choose us for:
Programs accredited by The Joint Commission. Our team earned the Gold Seal of Approval® for excellence in total knee and total hip replacement from The Joint Commission, the authority on high quality care and continuous improvement.
Fellowship trained, board-certified specialists. Your care comes from board-certified doctors, specially trained in orthopedics, orthopedic surgery, sports medicine, and neurosurgery. Most of our doctors are also fellowship trained in their field.
Care in a full-service hospital. If you need surgery, you can rest assured we offer the services and amenities of a full-service hospital, should you need it.
Comprehensive care you deserve, all in one place. We have the latest imaging and tests available to evaluate and diagnose orthopedic conditions at the earliest stages. Our hospital also offers both inpatient and outpatient orthopedic rehabilitation services. This means you can get diagnostics, treatment, and therapy in one place, from one team.
Compassionate team committed to your health. You benefit from a team of doctors, surgeons, nurses, physical therapists, and other specialists and professionals dedicated to helping you get better, faster.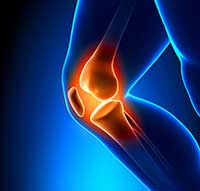 Take back your life with Wabash Valley's only knee and hip replacement program recognized for excellence by The Joint Commission. We get you moving again, pain-free.
Renowned spine care specialists use innovative technology to pinpoint and treat your back or neck pain, fast. Learn about our collaborative approach to spine care.
Don't let a sports injury keep you from an active lifestyle. We offer advanced services and therapies for injuries and concussions.