About Terre Haute Regional Hospital
Serving Indiana and Illinois
Terre Haute Regional Hospital is a 278-bed community-based medical center with comprehensive medical and surgical programs. Our service area includes Vigo, Sullivan, Knox, Greene, Clay, Owen, Putnam, Parke, Vermillion and Fountain counties in Indiana and Crawford, Clark and Edgar counties in Illinois.
At Terre Haute Regional Hospital we put Patients First by focusing on the highest quality patient care practices and advanced technologies while keeping patient safety a top priority.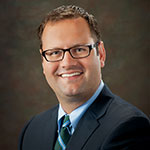 Learn more about Terre Haute's Leadership Team with CEO, Nathan Vooys.
Coming To The ER
It's not always clear when you should go to the ER ... Chest Pain, Severe Stomach Pain, Flu, Back Pain, Broken Bones, Stroke, Trouble Breathing?
Maternity Care
Terre Haute Regional Hospital is recognized for providing pregnancy and birth services that meet the highest standards of care.
Orthopedic and Spine Care
Don't let fear of a painful recovery or the thought of missing out keep you from living your best life.
Terre Haute Regional Hospital Blog
---
What's been happening around Terre Haute Regional Hospital