Meet Our Administrative Team
Nathan Vooys - CEO
Nathan Vooys joined Terre Haute Regional Hospital as Chief Executive Officer in March 2017.
He comes to Regional from Ocala, Florida, where he served as Chief Operating Officer at Ocala Health Systems. During his tenure, Ocala experienced rapid volume growth, deployment of several major capital expansion projects, the establishment of a Graduate Medical Education program, and the addition of a Level II trauma program.
Prior to Ocala he served as the COO at Santa Rosa Medical Center in Milton, Florida. Nathan received his Bachelors of Science from Vanderbilt University and his Master's in Business Administration from University of Southern California.
"I look forward to serving Terre Haute and the Wabash Valley and am honored to have been selected to lead such an outstanding healthcare facility. It's an exciting time at Terre Haute Regional Hospital and I consider myself fortunate to be a part of that," said Vooys. "Regional has an excellent team committed to providing the highest quality service to the communities it serves."
---
Jeremy Gallman – COO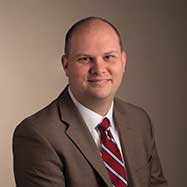 Jeremy Gallman is the Chief Operating Officer at Terre Haute Regional Hospital.
Gallman comes to Regional from Ocala Health in Ocala, Fla., a two-hospital system in HCA's North Florida Division, where he spent two years as Associate Administrator and held responsibility for key service lines across both the inpatient and outpatient settings.
Prior to his work at Ocala, Gallman spent five years as Assistant Vice President at North Florida Regional Medical Center in Gainesville, the flagship teaching hospital of HCA's Florida facilities, as well as nine years in leadership within the Carolinas HealthCare system in North Carolina.
A native of Charlotte, Gallman earned an undergraduate degree in Political Science from the University of North Carolina at Charlotte and a MBA-Healthcare Management from Western Governors University.
---
Jeff Chilson – CFO
Jeff Chilson became the Chief Financial Officer at Terre Haute Regional Hospital, in August 2019.
He joined HCA Healthcare-affiliate Parkridge Health System in 2015 where he served as Market Vice President of Finance, a four hospital market in Chattanooga, Tennessee.
Prior to joining HCA Healthcare, Chilson served as CFO for several non-HCA facilities in Pennsylvania and Colorado.
Chilson is a Certified Public Accountant and has an MBA from the Crummer graduate school of business at Rollins College, Winter Park, Fla. and undergraduate degree in business administration - accounting from Southern Adventist University, Collegedale, Tennessee.
---
Rachel Kelley - CNO
Rachel Kelley was appointed the Chief Nursing Officer at Terre Haute Regional Hospital in July, 2018. A native of Parke County, Indiana, Rachel has lived in Terre Haute her entire adult life.
Having worked in healthcare since 1988, Rachel first joined Terre Haute Regional Hospital as a pharmacy technician in 1992, before becoming a nurse in 1995.
Rachel started her nursing career at Terre Haute Regional Hospital on the medical oncology unit, later working in the float pool and ICU.
During her tenure, she has held a variety of nursing leadership positions including Charge Nurse, House Supervisor, Manager and Director.
In addition to her responsibilities at Regional, Rachel participates in a number of community events including Relay for Life, Komen Race for the Cure and serving at a local soup kitchen.
Rachel is the founder of the Wabash Valley Nurse Honor Guard, and was awarded the prestigious DAISY Champion Award in 2014. She also received HCA's Frist Humanitarian Award in 2011.
Rachel graduated from Indiana State University with her ASN/RN in 1995. She earned an undergraduate degree in nursing from Indiana Wesleyan University in 2010 and a master's degree in management with a healthcare administration focus in 2013.
Rachel is a member of the American College of Healthcare Executives. In 2008, Rachel received certification from the Kelley School of Business as a Certified Healthcare Manager.