Meet Our Board of Trustees
---
Bart Colwell - Chairman of the Board
Mr. Colwell is a well known businessman in the Wabash Valley. Currently, he serves as President of Terre Haute Savings Bank and sits on the board for the Chamber of Commerce and the ISU Foundation and the Economic Development Corporation. He has an undergraduate degree from Indiana State University
.
---
Dr. Daniel Bedecki is a family practice doctor who received his medical training at Dalhousie University and completed his residency at the Dalhousie Family practice. He resides in Terre Haute, Indiana.
---
Dr. George Bittar specializes in Cardiovascular Diesease. A graduate of the University of Aleppo in Syria. Bittar completed his residency at the State University of New York at the Brooklyn College of Medicine. His fellowship was also at State University of New York Marshall University and West Virginia University. He is certified by American Board of Internal Medicine, American Board of Cardiovascular Diseases and the American Board of Interventional Cardiology.
---
Dr. Robert J. Burkle is certified by the American Board of Orthopaedic Surgery and received his medical training in Indiana University at Bloomington. His residency was completed at Riley & Long Hospital; Marion County General and his fellowship was at Riley & Long Hospital.
---
Dr. Zenaida Contreas specializes is in Pediatrics. A graduate of the University of Santos Tomas in the Philippines, she completed her residency at the College of Medicine & Dentistry of New Jersey. She lives and practices in Terre Haute.
---
Dr. Karen Goeller is the Deputy Superintendent of the Vigo County School Corporation where she is responsible for the administration of the overall Curriculum and Instruction areas. She also provides district leadership for grant writing and administration. Goeller also serves on other local and state boards including, Wabash Valley Goodwill and the College Board Regional Committee. She holds a masters degree in English from Texas A & M University.
---
Rickey McCurry is the Vice President for Institutional Advancement at Rose-Hulman Institute of Technology. VP McCurry earned his Juris Doctorate degree at North Carolina Central University School of Law, Durham, NC. Prior to law school he graduated summa cum laude from Lane College, Jackson, TN with a Bachelor of Arts degree in History and a minor in English. McCurry also serves as Board Chair for the Council for the Advancement and Support of Education (CASE) District V (the Great Lakes region which includes Indiana, Illinois, Michigan, Wisconsin, Ohio and Minnesota). He and his family reside in Terre Haute.
---
Nancy Merritt is Dean emerita and Professor emerita, Scott College of Business, Indiana State University, having served the University since 2007. Previous positions include Professor of Marketing, Associate Dean, and Interim Dean of the College of Business during nearly 20 years at Bowling Green State University in Ohio. She has also served as a business consultant and small business owner. In the community, Dr. Merritt has been active in the Downtown Terre Haute Rotary Club, Vigo County YMCA steering committee, and Terre Haute Chamber of Commerce. She earned her Ph.D. from the University of Arizona in business with a major in marketing, and holds a bachelor of business administration from Montana State University.
---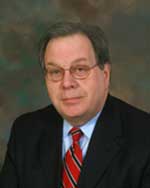 Patrick Ralston is the Vice President of Business and Economic Development and Government Relations at the First Financial Bank in Terre Haute. He holds a masters of Science degree in Park & Recreation management/Public Administration from Indiana State University. He formally served as the Executive Director of the Indiana State Emergency Management Agency and also as the secretary to the Emergency Medical Services Commission.
---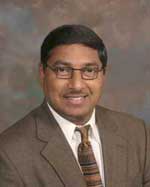 Dr. Chandra Reddy, founder and managing director of Hope Cancer and Research Institute in Terre Haute, holds a Bachelors of Medicine from Osmania Medical College in India. He completed his fellowship at State University Hospital at Stony Brook, NY. He specializes in Hematology & Oncology and has also served on a number of other boards. He is currently the president of the American Telugu Association.